We left France, on 30th September 2012 for a one year trip in Asia and South America.
We started with Sri Lanka, Myanmar (Burma) , Thailand, Laos, Cambodia, Vietnam and the Philippines .
After a short stopover in France to rest (oh yes we needed that), we flew to South America. In the program, Argentina (especially Patagonia), Chile, Bolivia, Peru and Colombia.

The map below shows our itinerary. You can click on one of the destinations to view the post.
—- January 2012 update———
We decided to spend a week in India (rather than to go through Sri Lanka again) before returning to France in March.
—- June 2013 update ———
Well… we extended le Big Trip by 1½ months. It's not every day that we do a round the world trip and have no obligation in regards to the return date. We decided:
– to spend a few days in Ecuador,
– go to the United States to visit some national parks (Bryce, Zion, Yosemite, the Grand Cayon … ) and a few cities (Las Vegas, San Francisco, New York)
– and visit Montreal! To finish with a good poutine with friends we haven't seen in ages, before returning to France.
You're thinking about going on a round the world trip as well? Check out our post "How to budget for a round the world trip".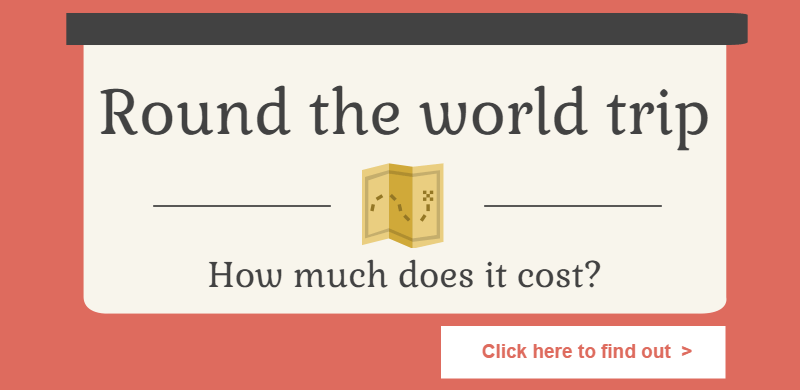 Destination
1
Paris, France
2
Colombo, Sri Lanka
3
Kandy, Sri Lanka
4
Dambulla, Sri Lanka
5
Anuradhapura, Sri lanka
6
Polonnaruwa, Sri Lanka
7
Sigiriya, Sri Lanka
8
Ella, Sri Lanka
9
Arugam Bay, Sri Lanka
10
Tangalle, Sri Lanka
11
Galle, Sri Lanka
12
Hikkaduwa, Sri Lanka
13
Bangkok, Thailande
14
Yangon, Birmanie
15
Bagan, Birmanie
16
Mandalay, Birmanie
17
Kyaukme, Birmanie
18
Hsipaw, Birmanie
19
Kalaw, Birmanie
20
Pindaya, Birmanie
21
Inle lake, Birmanie
22
Yangon, Birmanie
23
Bangkok, Thailande
24
Chiang Mai, Thailande
25
Mae Sariang, Thailande
26
Soppong, Thailande
27