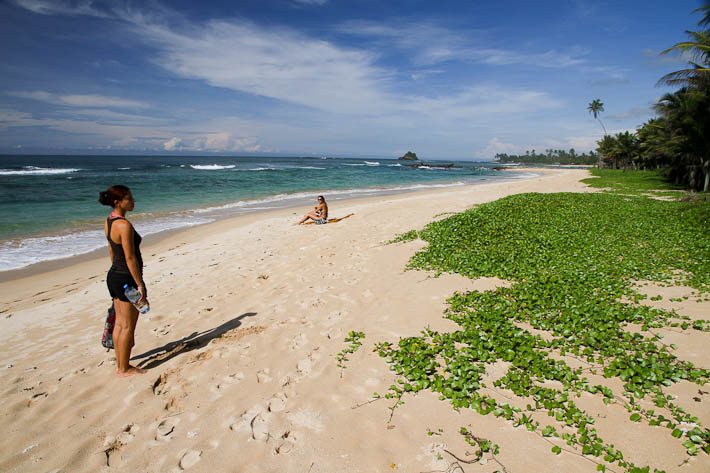 Beach time in Sri Lanka
We spent 2 weeks between Arugam Bay and Negombo. Here's our view on all the places we found on the way.
After the refreshing Ella, we needed a bit of sun. We leave for Pottuvil on the east coast. We stop nearby, in Arugam Bay, a small fishermen village. We followed Steffi and Grant's recommendations and stayed at « Beach Hut », where they got married the week before. The place is pretty relaxed, and everyone here is very open and laid back. During our time there Raf focuses on her yoga practice and Karim tries to surf.
The beach is nice, except the section where fishermen launch their boat. Men stare and don't smile much and there's a small green pool like an area that fishermen use for everything: clean, pee and occasionally wash the fish! Some dogs seem to be looking for TLC and lie next to people on the beach. Needless to say, Raf wasn't feeling that comfortable there.
We take the bus to Tangalle (well… a week later). The city is quite relaxed. Some of it had to be rebuilt after the 2004 Tsunami. We choose a guesthouse close to the water, a simple and cheap place. As we prepare to go out for dinner, the landlord tells us he invited a few friends to spend the evening at his place and invites us to join them later. He says it's just a party "to enjoy". We go back to the guesthouse after dining and find several men (no women) playing music and singing. They offer us drinks and ask us to sing a song! So they play the drums as we sing a French song « tomber la chemise » from Zebda. That's a moment we won't forget!
On the following day, we grab a drink at the restaurant we went to previously. It's empty because of the heavy rain so we spend the evening playing Rumikube with the landlord and his staff while talking about food and local customs.
If you go to Tangalle, go to the Kingfisher Guesthouse to see Rohithe. If you're lucky you might play Karom or get some intensive Cinghalese classes!
This post is getting quite long so we won't detail Mirissa (it has an amazing reputation in guide books but isn't that great), and Midigama (people are very friendly there and the beach is nice) to jump straight to Galle.
The city was once Phoenician, Portuguese, Dutch before becoming an English colony. People wander slowly in the narrow lanes between pastel coloured colonial houses. We find a few surprises like a white church converted into a mosque. Accommodation and food in Galle are more expensive than elsewhere in Sri Lanka but it's a nice stopover.
We spend our last days in Hikkaduwa on the west coast. It's full of tourists but we really enjoy the long strips of sand and wide beach. The food is good and the atmosphere is very relaxed. What a nice way to end this great month.
We take our last bus in Sri Lanka (with the worst driver the country has ever seen… and we thought we'd seen it all!) to Negambo where we spend our last night in Sri Lanka. We will soon add a post with our thoughts about this country.
In the meantime we decided to submit this post to "the longest post ever on the blog record". Support us and if you read it all, add a comment.
You can read our thoughts on Sri Lanka here.
A bientôt !