It's the place where we share our travel stories and our favorite spots with you.
The site has evolved from being our connection with families and friends to a site for travellers: with tips and inspiration.
After some time off, Le Big Trip is back in 2015 with a new design and many more stories to tell and tips to share. We visited ver 40 countries around the globe and can't get enough of the world.
Who is behind Le Big Trip ?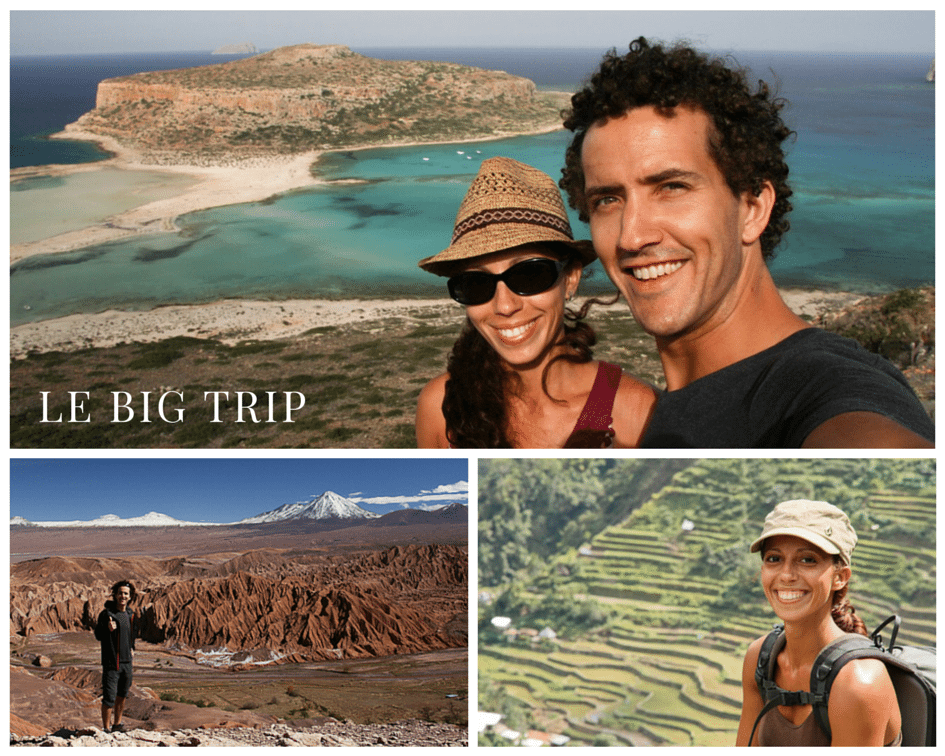 We are two globetrotters, Rafika and Karim, Frenchies who share the same passion for travel and photography.
On top of that, Rafika loves wildlife, so if you have the same interest for nature and wildlife, you will certainly enjoy the pictures on the blog and on instagram. From bears to parrots, including spiders (yes, as long as they're not in our bedroom) and insects, you'll see them all. Being small doesn't make them less fascinating. But… that's not the subject of this page.
Most of our travels are done in backpacker mode, with a low budget, but that doesn't keep us from splurging every now and then.
We started travelling in 2007, once we settled on the other side of the world, in Australia, where we lived for 5 years. We made the most out of it by visiting wonderful places like Thailand, Indonesia, the Pacific islands,… We then left our cocoon to travel the world and that's when the blog was born. We travelled to some amazing places and will definitely plan on discovering more as our bucket list gets longer and longer every day 😀
Check out some of our most popular articles:
– TRAVEL TIPS
How much does a round the world trip cost
7 secluded and beautiful beaches
10 things to do in New York
Our best travel memories
– TRAVEL STORIES
South America
Salar de Uyuni: desert, colorfoul lakes and salt flats
We walked on the moon, at San Pedro de Atacama
Cusco, the sacred valley and llama sacrifice

North America
A visit of Yosemite

Asia
Beach time in Sri Lanka
The stingless jellyfish of Kakaban's lake
– WILDLIFE ENCOUNTER
Don't forget our posts with wildlife pictures:
Yellowstone, grizzlis and plenty of wildlife
Note: there are currently more posts on the French version of the site. They haven't all been translated yet.
You'd like to know more about us and our travels? Follow us on Instagram