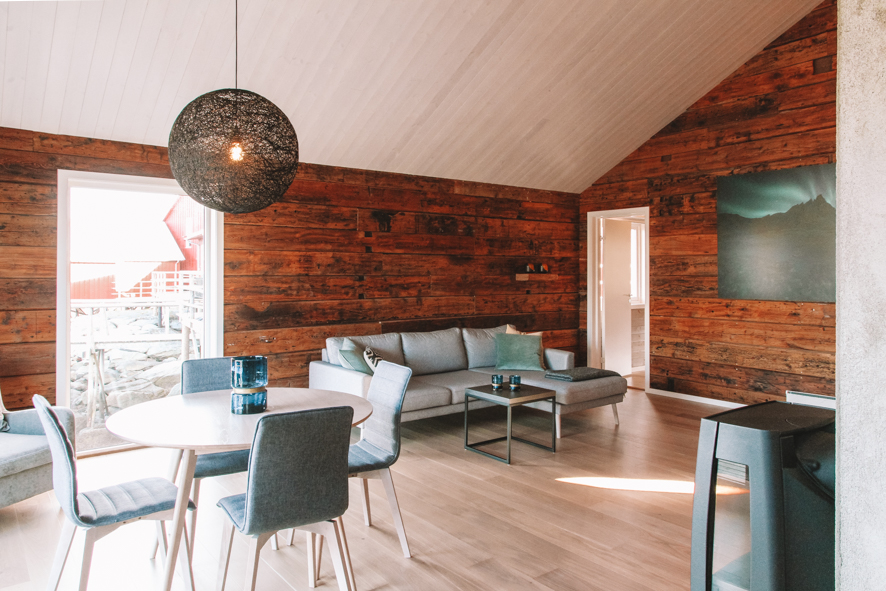 Hattvika Lodge, luxurious fisherman's cottage in the Lofoten Islands
If I asked you to close your eyes right now and describe your dream home in Norway, chances are you'd describe the Bendiksenbua cottage in Hattvika Lodge. You'd most likely say things like a place with "a warm cosy atmosphere, a fireplace, wooden panels, and unbelievable views on a small fishing harbour with snowy mountains in the background"… Right? That's exactly what you'll find in this luxurious cottage in Hattvika lodge.

As you enter, the first thing you notice is the walls covered with old timber. It makes the entire space feel super cosy and warm. The timber was sourced from nearby old fisherman's cottages and bears the marks of time. You suddenly realise that this place is full of history. The land has been in the family for 5 generations. That's their great-great-great-grandfather's! It took a lot of hard work to refurbish the fisherman's cottages. Some of the cottages had to almost be rebuilt from the ground up. And the result is astonishing.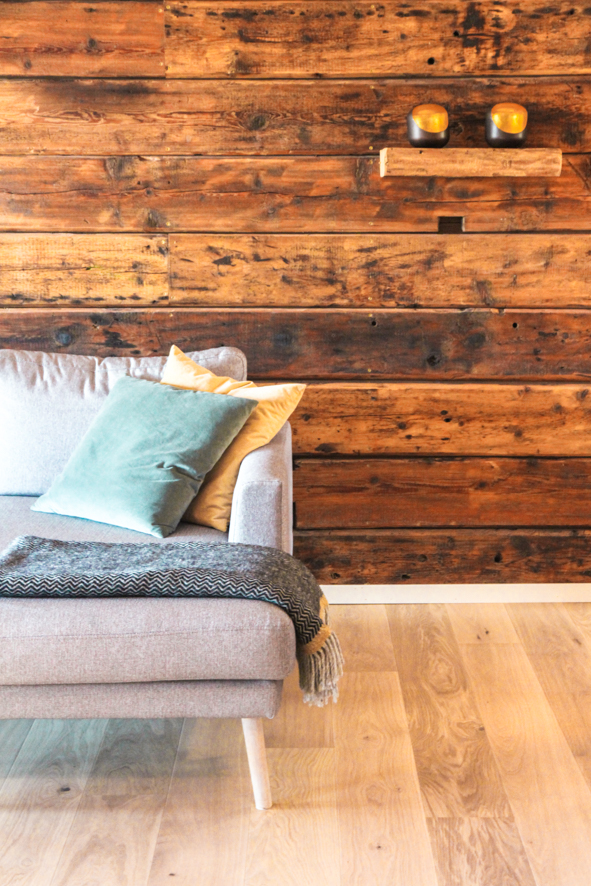 Stepping in, you're surprised by the volume of the cottage. The high ceilings make it look immense, yet it feels right. It's exquisitely designed and tastefully furnished in pure stylish Scandinavian style. You instantly feel at home.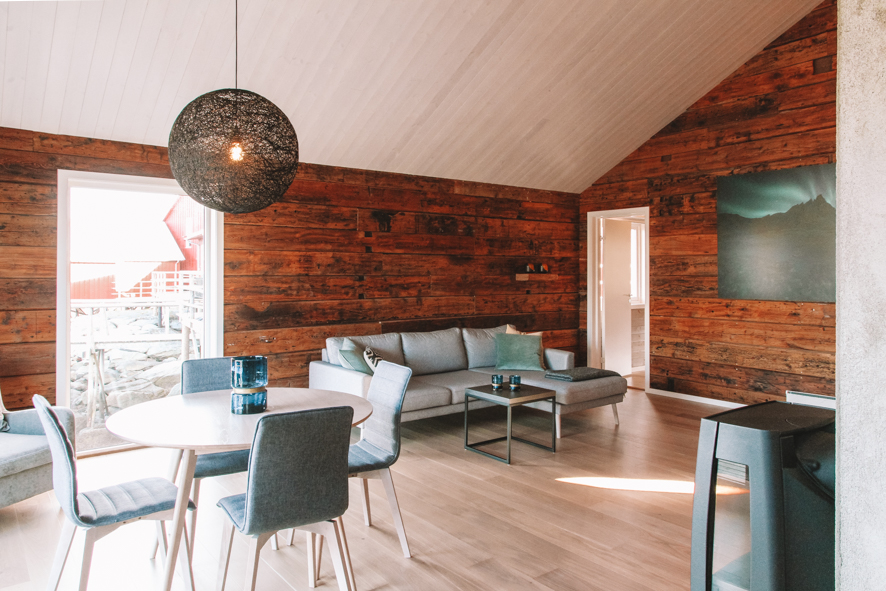 From pretty much anywhere in the apartment, you see the marvellous view on the little harbour at the back.




You can step outside on your deck to breath the fresh air and have lunch. We visited mid-May and still managed to eat outside in the sun. It's amazing how warm it can get when the sun is out and there's no wind.
And there's a private jacuzzi on the deck! Yes, it's yours only. We jumped in when the little one was asleep. It was such an unforgettable experience to be outside around midnight and still have some daylight.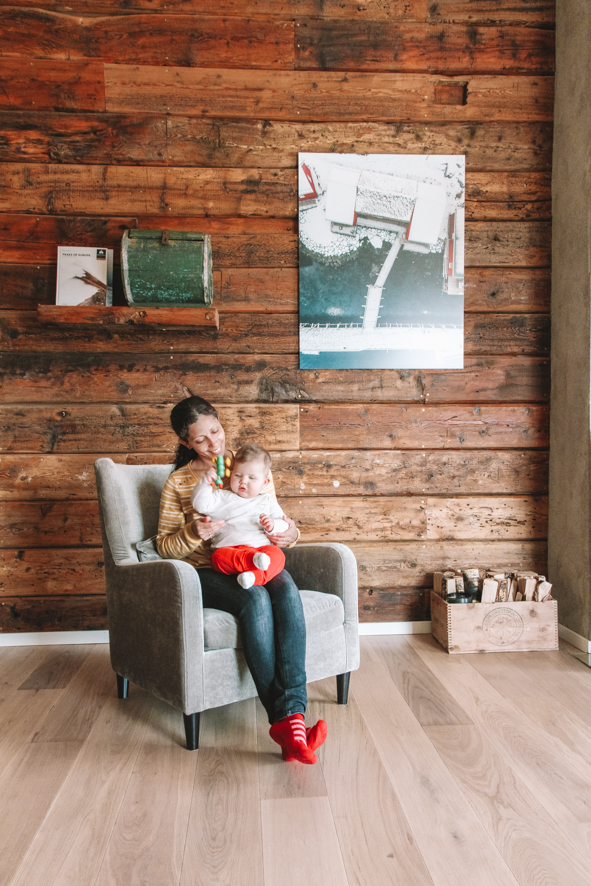 We started a fire in the fireplace. Seeing the flames dance is always mesmerising. Perfect to relax and watch the latest episode of Game of Thrones 😛 I think we could have moved there permanently.
On a more practical note, the living room flows nicely into a fully equipped kitchen. There's everything you need to cook your meals and prepare sandwiches for your hikes. I really appreciated the coffee machine. I loooooove coffee…..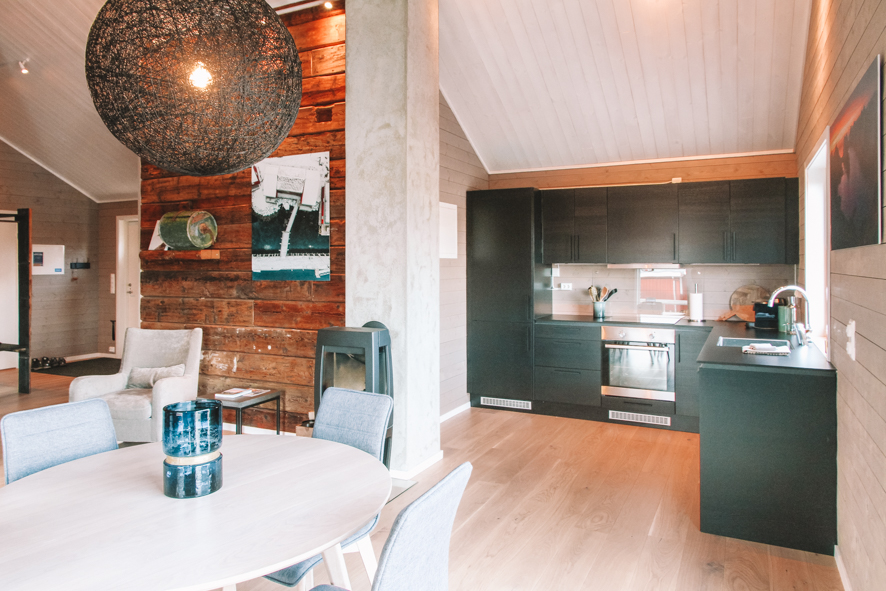 The cottage has 2 bedrooms (with plenty of storage) and two bathrooms. The master bedroom has an ensuite with a double shower! The only downside for me was that the beds were too comfortable, making it hard to wake up to go hiking.
As you can see, we loved our Bendiksenbua cottage. But what made the experience very special for us was our host. Kristian is a kind and genuine person who will do everything to ensure your stay is a success. When we mentioned that we came here to hike, he spent time with us to refine our itinerary, advising us on the best hikes around.
We also went to the little cabin at the end of the dock, Möller's taste depot, for a cod liver oil tasting. Cod liver oil was a big business and definitely a big part of Norway's past. And I have to say, it tastes surprisingly good considering the stories I heard!
We didn't have time to try the different activities Hattvika offe