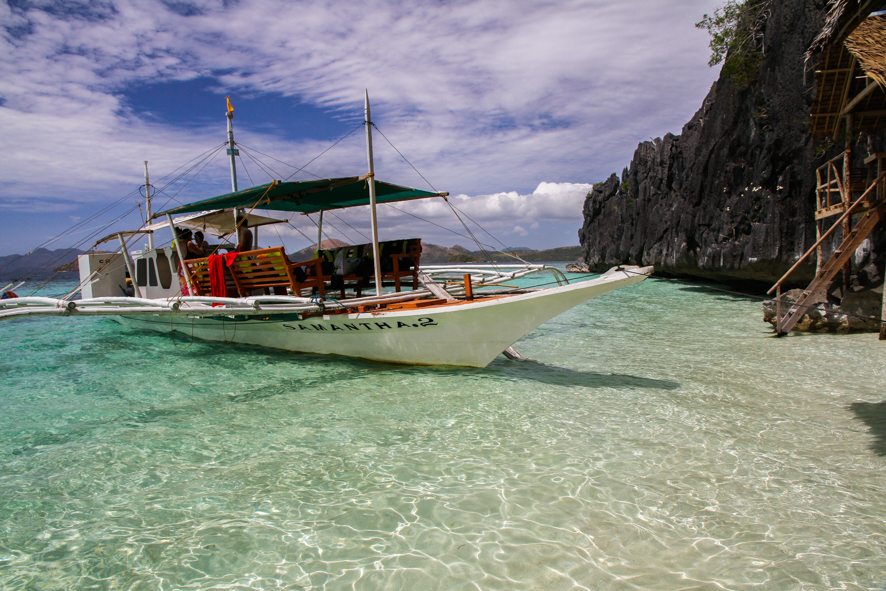 Exploring Busuanga and Coron island
We're approaching the island of Busuanga, and the colors look amazing from the plane. The sea is turquoise and the beaches covered with beautiful bleach white sand. We already know we're gonna love the Philippines. We're looking forward to landing and visiting Busuanga and Coron island.

The hostel is in the middle of local housings. We get there through a pontoon. The spot seems great at first. But between the loud music, dogs barking, kids shouting and roosters singing very early in the morning, it's hard to sleep once the sun starts rising. But it's noisy everywhere in Coron town so we just have to try to get used to that. 🙂
There's power a few hours a day. It's supposed to be at the same time every day, but the regular power outages make the locals life hard. It's crazy how everything gets busy again as soon as the power is back.
Visiting the town of Coron doesn't take much time. We discover the local specialities: chiksilog, tapsilog, … Pieces of meat served with rice and a fried egg. Simple, cheap and good.
Coron town and Coron island
Coron town isn't on Coron island. It's on Busuanga island. It's the jump start of all excursions to Coron island, where tourists can't stay overnight.
We spent a few relaxing days in Coron town and went snorkelling on Coron island. Look at this video showing the limestone cliffs of Coron island: doesn't it make you wanna go right now?
The underwater scenery is incredibly beautiful. We saw a lot of colourful corals and small fish. Check out the gallery at the end of this post.
We also rent a bike and explored the island of Busuanga. We had a nice time climbing the mount Tapyas for sunset and ended the day with a little dip in the hot springs.
The days go by fast in this little town. We decide to leave for our next destination: El Nido. But it's not that easy, the boats are full for another 2 days. Well, I guess we'll have to stay(ooooh), relax and update the blog, if Internet works 🙂
Great Hostel
We stayed at the
Coron Backpacker guesthouse
, in Coron Town. Great vibe and cheap (500 pesos/night for a double room). They even offer you a discount if you stay for a long time.
We highly recommend this place.