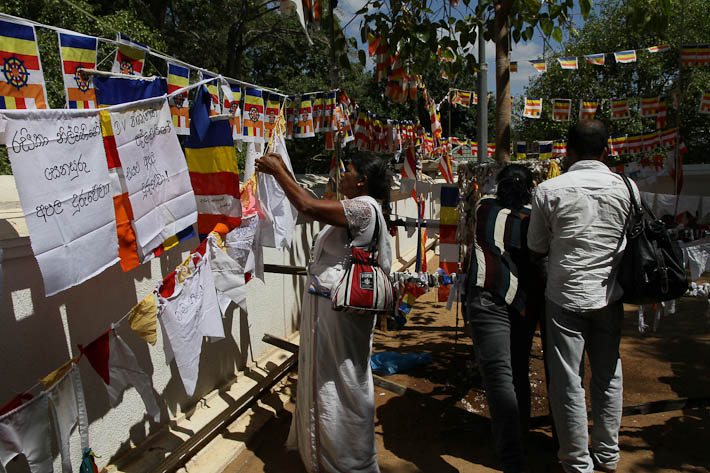 The cultural triangle, our favourite photos
To give you a quick idea, the cultural triangle is made of 3 very important cities in Sri Lankan history. Each was the capital of Sri Lanka at some point: Anuradhapura, Polonnaruwa and Sigiriya. It took us ages to remember those names! haha

Anuradhapura is the only complex still being used. Many temples and pagodas spread across 10km. Lucky we had Praba, our driver who took us around… much easier than the rental bikes. It would have been far too hard, and hot!
Polonnaruwa, like Anuradhapura, is spread across a few kilometers. The nicest were the tooth relic ruins (the quadrangle), that is made of approximately 10 small buildings, including one that was the first temple where Buddha's tooth relic was kept.
This complex is only made of ruins. Nevertheless Polonnaruwa has a certain je ne sais quoi…
We finished our visit by the one we preferred: Sigiriya.
After murdering his father and exiling his brother, the king built his new residence at the top of a 200m high rock, in the heart of the jungle. A scene of Indiana Jones & the temple of doom was filmed there.
One can only find ruines at the top but it gives a pretty good idea of how impressive the palace was. And the view, what can we say? It's simply stunning! A 360 degrees view of the landscape around.
But for us it's the ladies painted on a cave on the way up that did it. The details are still sharp, the colors as bright as they were a few centuries ago. A real work of art. I bet the painter didn't think they were going to stay that way for so long.
Well, another 4 days gone in a flash. We hop on the train to Ella, a small town in the heart of the mountains. It's time to enjoy some fresh air after those couple of days in the heat where it hasn't rained for 7 months.