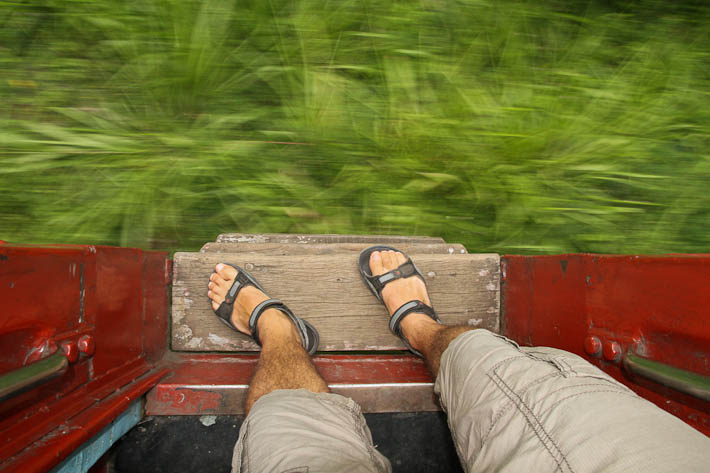 Ella rock and the whole hotel for us
After visiting the cultural triangle, the driver takes us to Green View, a hotel in the middle of the mountains in Elkaduwa, close to Kandy.

It feels good to be in a calm environment after 4 very busy days. We are the only guests in this big hotel. It's a bit strange at night but it's nice to have breakfast at our table out on the balcony. We are happy to trade the sound of the noisy roads and hassle of the tuck tucks for the singing birds.
After a couple of days, we take the train to Ella. The view is beautiful; the train goes around the mountains and past many tea plantations. It is cooler… and we're quite happy about that! 8 hours later we arrive in Ella, small city with 1,500 inhabitants in the middle of the hills.
Ella is a quiet city and we feel good as soon as we arrive. It's calm and the temperatures are more bearable. We understand why there are more tourists here!
There are a few nice walks in the area so we decide to do an easy 2 hours walk to warm up! Well… I guess we didn't read our guide properly as we ended up on Ella Rock, a 4 hours hike with a 2 hours climb. On top of that, a local decided to play guides and took us 30cm from a hornet hive. We didn't really need this after escaping the hornet swarm in Sigiriya.
We're rewarded with a light wind and a nice view of the surroundings when we arrive at the top. On the way down a local invited us to drink tea. Sri Lankans are definitely very friendly and welcoming.