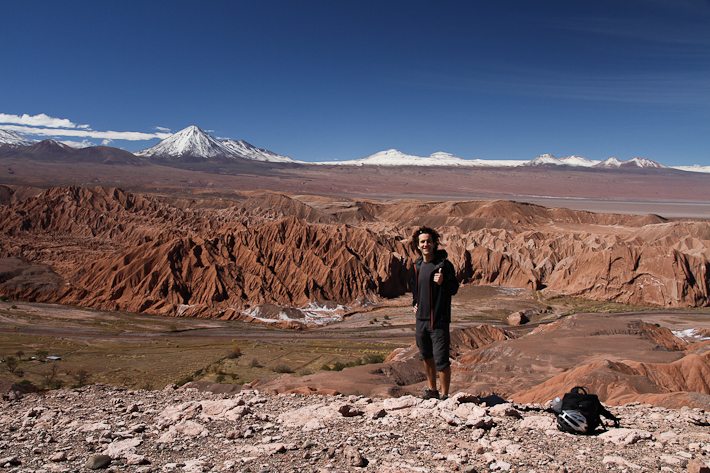 We walked on the moon, in San Pedro de Atacama
San Pedro de Atacama is one of those small villages where you feel good as soon as you arrive. The narrow streets are bordered with mud-coloured adobe houses. There's a small square where people walk around at a small pace and a small white church contrasting with the always blue sky. See the picture?

The village isn't that high, but we start to feel the effect of altitude and start to feel like we're missing oxygen. Nothing bad but we feel exhausted quickly. It's actually recommended to stay in San Pedro for a few days in order to get used to the altitude before visiting around, as most places are 4,000 meters above sea level.
San Pedro is a base camp for those who want to explore the region. The main street is full of tour agencies. We chose Maxime expeditions as we really got along with the manager.
Our visit starts with the Valle de la Luna, the Moon Valley. It includes several view points to admire the moon like landscape and a beautiful sunset.
On the following day, we hire bikes and go up the tortured mountains close to San Pedro. The hills are desertic, there's barely any vegetation bordering the river and we can admire the snow-covered Andes in the background. Amazing landscape. What more can we ask for?
Later, we leave for lago Cejar, a salt lake… very salty: approximately 10 times more than the sea! So like in the dead sea… we float to the surface, no matter what we do. It's a strange sensation. Impossible to touch the bottom or to get water overhead. Perfect to learn to swim.
Proof in this video (pardon my French):

Even after a quick rinse with fresh water, our faces are white because of all the salt.
Our last expedition takes us to the Tatio geyser at 4,200 meters. It's a good training for the road to Bolivia, in a few days, as we'll go through sections at 4,900 meters. There are several types of geysers and some send steam and hot water a few tens of meters high. What a show. Some are even called assassin's geyser, as four imprudent tourists went too close and died.
Our heads are full of beautiful images from around San Pedro de Atacama. Tomorrow we leave at 7 am for a 3 days adventure to Bolivia. 3 days in a 4×4 in South Lipez and the Salar de Uyuni.
Bolivia, here we come!