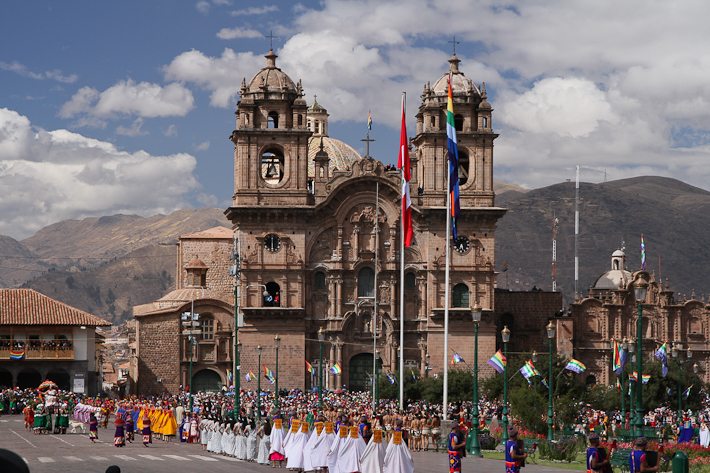 Cusco, the sacred valley and llama sacrifice
We have to admit, Cusco is our favorite city, since we started our round the world trip. Its beautiful colonial architecture, paved streets, laid-back vibe and nice restaurants will make you love it. When we heard the Inti Raymi festival, the festival of the sun was approaching, we modified our itinerary to get to Cusco earlier.

It is a big event for this city that gives so much importance to its Inca background. People come from all around Cusco to parade in the streets and dance. Parades that literally last from sunrise to sunset. The festival lasts for over a week with the climax of the event kept for the last day: a theatrical representation of the Inti Raymi that starts in the city centre and ends in Sacsayhuaman, a religious 2km from the city.
The luckiest (wealthiest :D) pay for a seat close to the stage. That's not for us 🙂 We join over 100,000 people on the hills with an amazing view over the stage to watch 3h of traditional dance and various rituals. Many locals are around us and we feel privileged to attend this historical event.
Lucky we bought a guide in English as the whole ceremony is in Quechua. We would have certainly missed the llama sacrifice (we were a bit far indeed).
Once back to our hotel (La Bohême – that we highly recommend), we watched the fireworks from the terrace.
There's plenty of things to do around Cusco so we decide to go on a 2 days trip to the sacred valley of the Incas.
We spend the first day visiting the ruins of Pisac and Ollantaytambo. The following day, as we leave our hotel, we stumble upon Sisou and Laureline with their backpacks (longtime friends from France). We didn't know they were in the area. We were meant to catch up in a few days. What a nice surprise. We decide to visit Salinas and Moray together and share our stories.