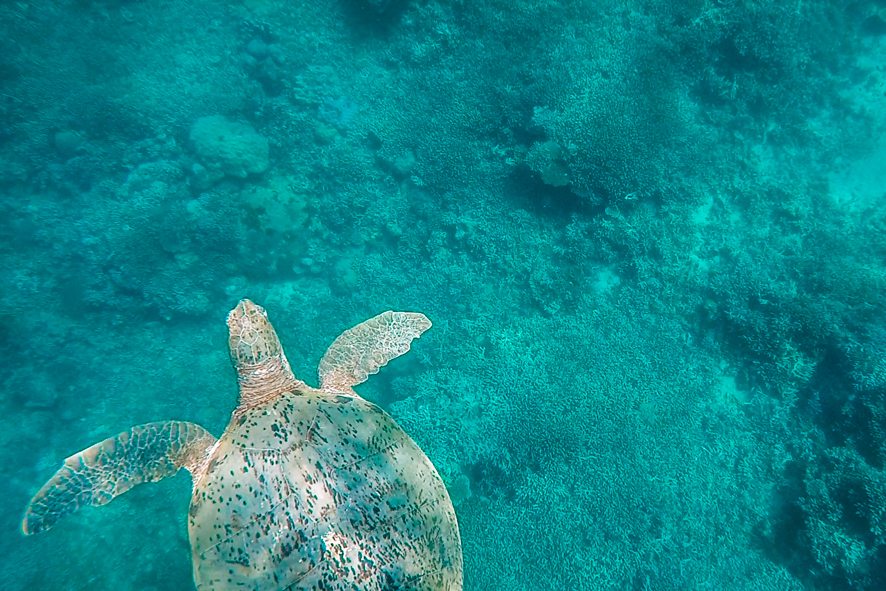 Save the turtles, don't go on Sangalaki island
The Sangalaki island is part of the Derawan islands. People go there for various reasons: to snorkel, dive, or see the manta rays and the baby turtles.
On top of that, it's a beautiful area. But visiting Sangalaki island isn't something I advise you to do. Here's why.

Why not go on Sangalaki island
Sangalaki is a very nice island, as you might have seen on our instagram page :
Despite that, there are two main reasons why you shouldn't go on Sangalaki:
– Sangalaki island is a prime nesting site for green turtles.
In 2012, the turtle foundation permit to protect the turtles of Sangalaki has been withdrawn, so they are not working on that Island anymore. The protection has been taken over by the governmental agency for nature conservation. Less protection means that most of the turtle eggs end up on local markets. The nests on Sangalaki are harvested and sold, and only a few are kept to show the hatchlings to tourists.
Some people on Derawan island aren't helping either: you can find souvenirs like products made of turtle shell or even stuffed juvenile hawksbill turtles. Turtles are peeled alive to make these souvenirs. The saddest thing is that the police isn't doing anything…
Photos courtesy of the turtle foundation
So if you see those on Derawan island or elsewhere, please don't buy them and avoid buying in the shops where they're sold (ideally explaining to the owner you don't agree with this). The turtle foundation still continues their conservation project on two other nesting Islands in the Region: Bilang-Bilangan and Mataha. Despite what you get told, no other island is protected. – The second reason is the island entrance fee you need to pay if you want to "walk" on the island. It is an official entrance fee for a protected area but that money doesn't help save the turtles. The fee is:
– IDR 7,000 for locals,
– IDR 100,000 regular, IDR 150,000 holiday for foreigners (I'm not even sure what regular vs holiday means… but it seems to be more expensive during the high season) I find that amount outrageously high for Indonesia. I reckon it's fair to pay that price if it actually goes towards helping save the turtles but that doesn't seem to be the case.    The turtle foundation and ProFauna are doing everything they can to help the green turtles and hawksbill turtles but at the moment they can only slow down the process of extinction. Let's do what we can to support them.
What can you do around Sangalaki instead?
As I previously said, it's still an amazing place and it's worth diving or snorkelling around the island. I only recommend not to go on the island but you should definitely get to know the area surrounding it. It is amazing above and underwater :