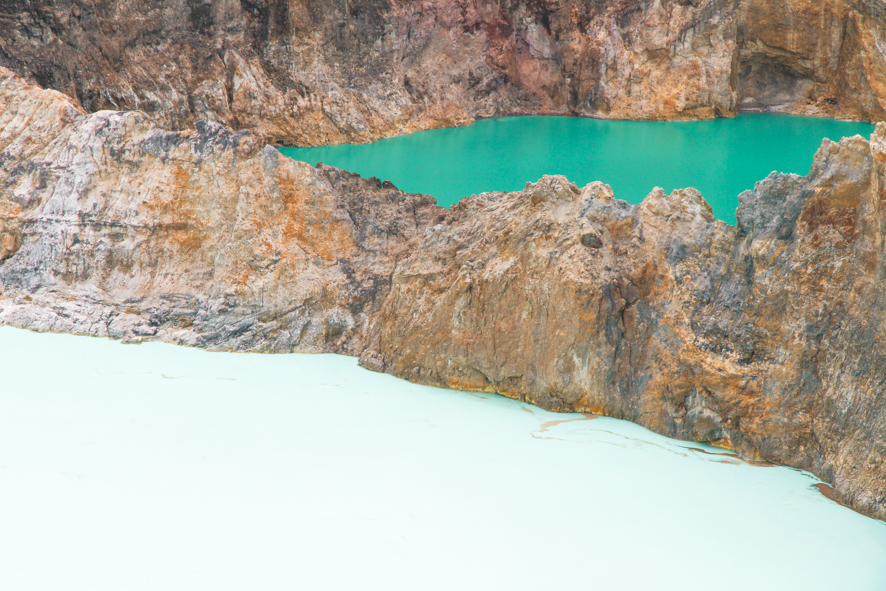 2-day itinerary around Kelimutu and Moni
We can't get enough of Indonesia. It's a true paradise for nature lovers. And after visiting Bali twice and Borneo, the next place on the list had to be Flores Island. And after sailing the islands of the Komodo National Park in the search of Komodo dragons and manta rays, we headed down to central Flores to visit Kelimutu and its surrounding.
How to get to Moni and Kelimutu
You have 2 main options to get to Moni from Labuan Bajo. If you're travelling from somewhere else, you'll find more information here.
The easiest by far is to fly from Labuan Bajo to Ende. When you land in Ende, you have a couple of options to get to Moni:
if you booked a tour or hired a guide, they'll be waiting for you at the airport. From there it's a 1.5h to 2h drive. Our guide stopped on the way to let us try local fruits. You definitely have to try the snake fruit. It's sooooo good and is so different from anything we tasted before!
you can rent a car and make your way to Moni.
or you can head down to the Wolowona station and grab a local bus. Count 2.5h at least in that case.
It's possible to go directly from the airport to Kelimutu within the same day, depending on when you land of course.
The other, more adventurous option is to go from Labuan Bajo to Moni by bus. It's a long 12-14h drive involving multiple bus changes (more info here if you're interested).
Please note that there is only one road to get there and it tends to be closed during the rainy season because of the frequent landslides. So we only recommend this option if you're either short on cash or have the luxury of having a lot of time when you travel: around-the-world-travellers, we're looking at you! 😉
In our case, as we landed, we were welcomed by our guide, Udo from "Eco Safari Indonesia". Check out the 2-day itinerary Udo planned for us.
The 3 coloured lakes of the Kelimutu volcano
Kelimutu is a volcano close to the small town of Moni, famous for the 3 volcanic crater lakes at its top. What makes them so special is their capacity to change colour ranging from a nice milky blue to a deep dark red. And even though the science behind it is pretty well known (the colour changes based on the oxidation-reduction status of the water), it remains quite fascinating.
After a 25 minutes drive from Moni, and after paying your 150,000 Rp entrance fee (in 2017 – the fee goes up to 225,000Rp if you visit on a Sunday or public holiday!), it takes a short 25 minutes to walk to the top. It's a fairly easy walk on a paved path. We didn't stop at the first viewpoint (we checked it out on the way down) and headed straight to the top.
As we were reaching the top, clouds started covering the lakes for a couple of minutes before moving on. It turned out to be a pretty dramatic reveal 🙂 The contrast between the colours of the lakes and the ochre cliffs are incredible. We spent quite some time at the top, just looking at the lakes from every angle. We had a quick coffee served by one of the local grandmas who set up shop at the top before heading down.







One of the key questions we had in mind before coming here was should we go to Kelimutu for sunrise? We did a lot of research and realised that there are pros and cons for each option.
Of course, seeing the sunrise over a volcanic lake sounds great. Who wouldn't want to see that? But the mornings are often cloudy (especially during the rainy season) and the colours of the lakes truly reveal themselves when the sun is high in the sky (after 10-11am). The best way is probably to ask your guide what the weather was like in the last couple of days to decide what to do. We decided to go around midday and don't regret it as it was less busy and the colours of the lakes were truly wonderful.
Kelimutu is definitely the highlight of the area. But if you have time to spend a few days over there, there is plenty to do to keep you busy. Here are our favourite picks.
Waterfall murunda'o Muru
Murunda'o is the first of 2 waterfalls we visited around Moni. "Muru" actually means waterfall. It's easily accessible from the road (view map). The path starts right in front of the Rainbow Cafe in Moni. From there it's a short 5-minute walk downhill to the waterfall.
We actually started our walk at the end of the Woloara village to the waterfall. And the second world you'll learn, "Wolo", means hill. From there, it's a nice 2.5km walk through the fields and forest. You probably don't really need a guide to find your way if you ask around. But we were really happy to walk with Udo, as he taught us heaps about the local culture and flora. All the houses had tombs in their gardens. Locals bury members of their family members in front of their homes.
The waterfall is pretty nice and refreshing. A couple of bamboo bridges give it an adventurous feel. There is also a small pond where you can feel hot water coming from the ground. It's so easy to forget that we're on volcanic land with all that lush vegetation around!