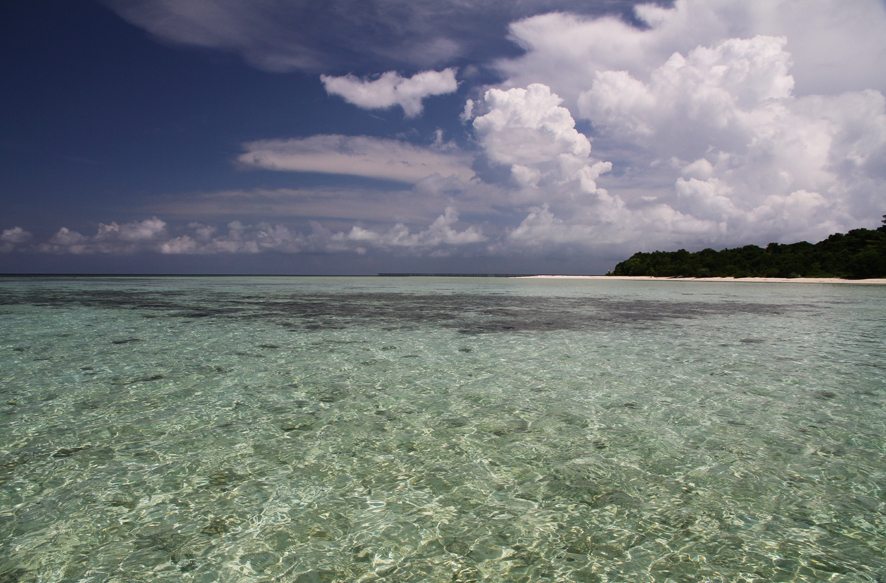 Plan your trip to the Derawan islands
The Derawan Islands are a paradise for underwater lovers. They are located in Kalimantan East, the Indonesian side of Borneo, and are a great alternative to Sipadan.
The archipelago consists of 31 islands, the most important being: Derawan, Kakaban, Maratua and Sangalaki.
They aren't that well known by tourists (unlike the Gili Islands) and are mostly visited by locals. These islands have long been considered one of the best destinations in the world for diving. We were amazed by the clear water and the abundance of coral and marine life. Apparently, this was even more spectacular a few years ago. You should definitely go there soon before it changes too much.
There is little information about the islands on the Internet and when there is, it is often contradicting … We had the best time on the Derawan Islands and have written this detailed guide to help you plan your holiday. We explain how to get there, where to stay and what to do… basically all the information we would have liked to have before getting there 🙂
We'll talk more about the islands and share more photos in other posts.
Why you should go ?
The locals are very welcoming and the underwater world is beautiful around the islands. Who hasn't dreamed of snorkelling surrounded by dozens of turtles, fish of all kinds, and all of that in the middle of colourful corals? In a few hours, we swam with over 100 turtles! On top of that, you also have the opportunity to see dolphins and swim with stingless jellyfish.
Makes you wanna go hey?
The Derawan islands, Indonesian side of Borneo
The Derawan archipelago is made of several islands that each has very different characteristics. The main ones and more accessible are:
– Derawan, the smallest of the islands, but also the most developed one and with the most infrastructures for tourists.
– Kakaban, the jellyfish island. You can swim in a lake full of stingless jellyfish. They were confined in this lake without predators and consequently lost their natural defences. It's an amazing experience that you can live in only three places in the world.
And the coral is beautiful around the island.
– Sangalaki, where many turtles lay eggs, and if you're lucky, you can see manta rays.
– Maratua, where you can swim with dozens of turtles and discover many species underwater.
How to get to the Derawan Islands, Indonesia:
It is quite long and complicated to get there. There is no public transport and it can, therefore, get a bit expensive.
There are two entry points. The easiest one is through Berau, on the Borneo island.
Visa
If you do not have a visa for Indonesia, on arrival in Kalimantan, you will have to fly through Balikpapan first to get one when you land at the airport (VOA – Visa On Arrival) and then get to Berau. This is your only option.
Otherwise, you can get a visa in your country, in Kota Kinabalu or Tawau, Sabah, Malaysia. If that's the case you can pick one of two options below to get to Derawan. 
A/ OPTION 1 : From Berau, Kalimantan to the Derawan islands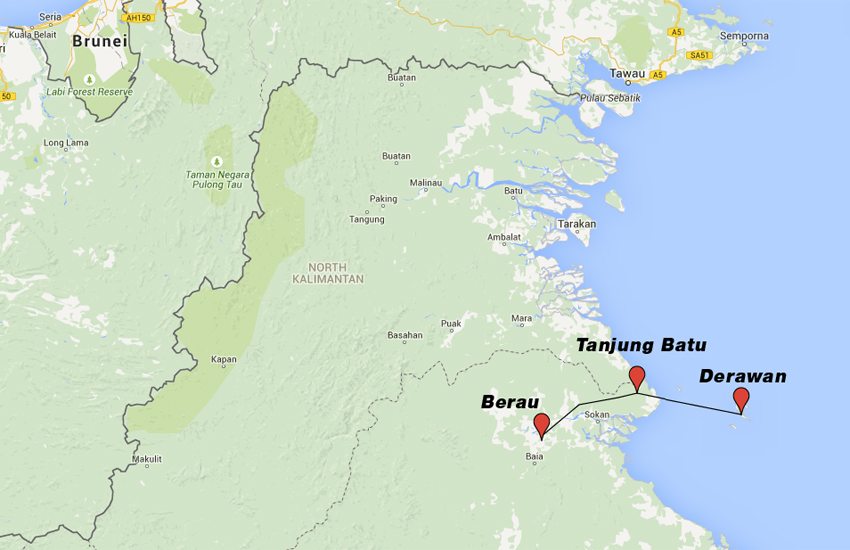 – Step 1: Getting to Berau
a) You can get to Berau by plane or by bus from Balikpapan (you can also arrive from Bali, Jakarta, Lombok, Kuala Lumpur, Singapore … with Garuda Indonesia for example)
or
b) you can go through Sabah (Malaysian side of Borneo) and fly from Tawau to Tarakan, then Tarakan to Berau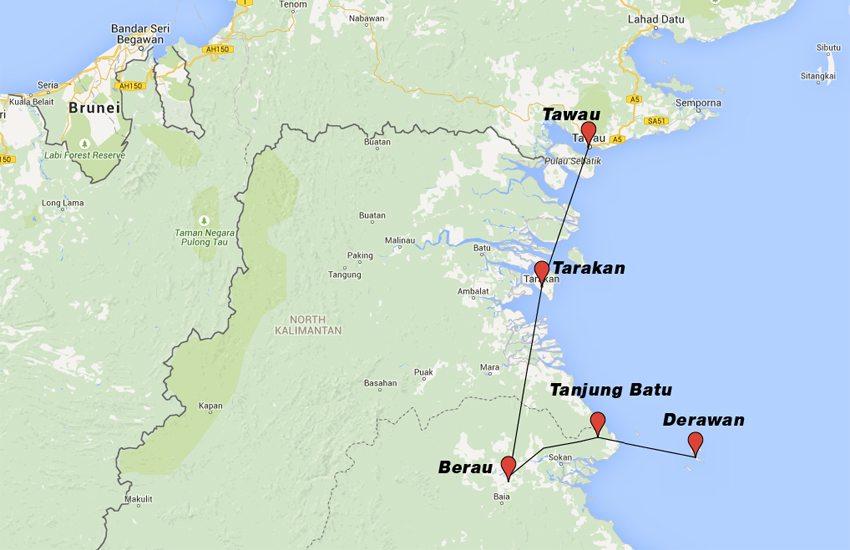 –Step 2: Getting to Tanjung Batu
Once in Berau, take a Kija, a minivan, from Berau to the port of Tanjung Batu. It costs between 70,000 and 100,000IDR per person (you will need to bargain to get the correct fare)
Otherwise, you can ask a local if he knows someone who can drive you to Tanjung Batu. The hard part of this option is to make yourself understood 🙂 The price is between 100 000 IDR and 120 000 IDR per person. The journey takes 2 hours (a bit longer than with a minivan).
On the way from Berau to Tanjung Batu, you'll see trees cut down and burned to make way for the cultivation of palm oil. It's a sad thing and not always legal …
Overall, you will need 4h between Berau and Maratua island and vice versa. Take this into account for your return.
– Step 3: Getting to the Derawan Archipelago
There is no public boat from Tanjung Batu to the islands, you will need to bargain with the owner of a speedboat. The price is often very high and varies according to the island where you want to go. But it is generally difficult to lower the price of the crossing. You have to be patient.
A fair price to go on Derawan island would be 200,000IDR for the boat, if you are 2, a little more expensive if there are more people (generally they will tell you 350,000IDR). It is indeed more expensive than other places in Indonesia. To go to Maratua, 30mn further than to go to Derawan, you will need to pay over a million … (no logic …). A boat can accommodate up to 4 passengers.
If you're heading to a resort, ask if they can arrange transportation.
Notes:
– You should arrive in Tanjung Batu before 3pm to be able to get to the islands on the same day. The speedboats can't come back after 6pm, when it's dark.
– It takes about 30 minutes from Tanjung Batu to Derawan island and 1h between Tanjung Batu and Maratua, if the sea is calm. – Ask to be left at your hotel (or quote one of the hotels later in this article) to not be left anywhere with your luggage.
B/ OPTION 2 : from Tawau, Sabah, to the Derawan Island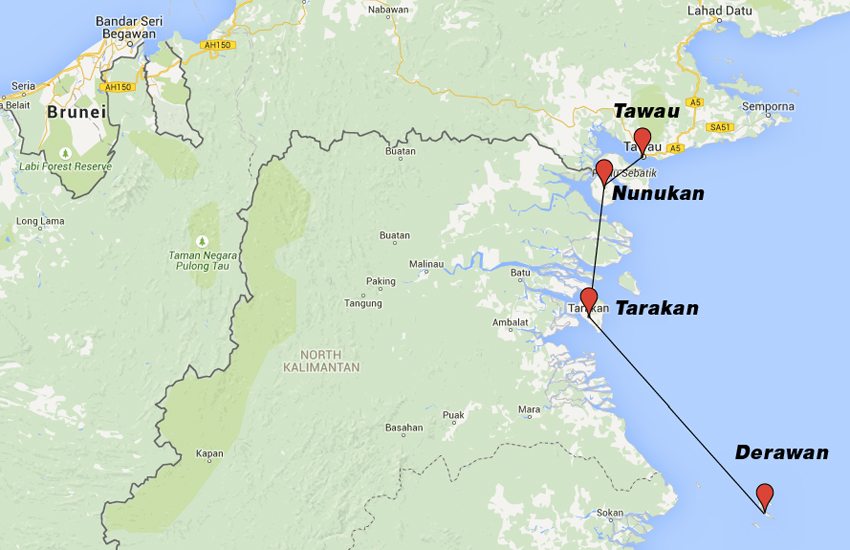 Even though it's closer, it is more complicated to get to the Derawan islands from Sabah. It's a long trip and you'll certainly have to stop overnight on the way.
– From Tawau in Malaysia, you will first need to take a public boat to Nunukan (approx. 1h30) and then take a public boat from Nunukan to Tarakan (3h)
(remember that this option is possible only if you already have a visa for Indonesia)
-Some say that there is a ferry between Tarakan and Derawan, but few people managed to take it. It would be available on Thursday only … Might be good to check once in Tarakan but I wouldn't count on that.
You will certainly have to take a private boat which will take 3 to 4 hours, depending on your final destination (Derawan, Maratua,…)
Otherwise, you can fly from Tarakan to Berau (for the rest of the journey, see Option 1 above)
An airport and port are under construction on Maratua island. The airport is expected to open in June 2015. So there will probably be a simpler way to get to the islands in a few months time.
Where to stay?

Only two islands are inhabited by local: Derawan and Maratua. Here is a list of islands with accommodation:
DERAWAN
This island offers several cheap options, close to each other. The losmens are basic and on stilts over the water. There were 2 new hotels being built on either side of our bungalow. More and more of those are planned.
We stayed at L