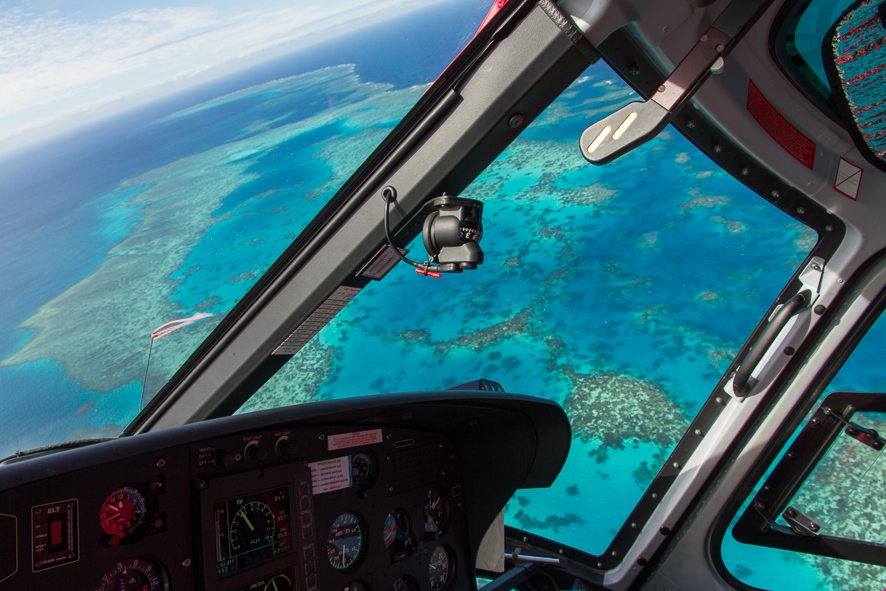 The best ways to explore the Great Barrier Reef and the Atherton Tablelands
Should you go visit the Great Barrier Reef you ask? Well, let's see. How does swimming in the middle of a coral garden surrounded by hundreds of colourful tropical fishes sounds? Not bad, hey? We thought so. That's why we decided to go there for the second time. And we're taking you with us.
First, let's get high… in a hot air balloon
After a good dose of tropical rainforest (if you haven't read the first part of our journey in the Daintree Rainforest head here), it's time to head to the beach. And once again, we thought that it was a good idea to start with views from above. It was perfect as Hot Air Balloon Cairns invited us for a sunrise flight. We flew in planes (big and small), helicopters, and paragliders in the past, but never on a hot air balloon, so we were pretty excited! Hot Air Balloon Cairns operates Australia's biggest fleet of balloons, so we knew we'd be in good hands.
As we were staying in Port Douglas, we woke up really early and made our way to the meeting point. They can pick you up from your hotel if you want. This is when we met David, a very friendly member of the team. He walked us through how things were going to work, and we were on our way. It was still dark when we arrived on the launch site. All you could see were the lights generated by the balloons flames. We waited a few minutes on the ground watching the 6 balloons inflate and reveal their designs. It was pretty cool. When ours was ready, we jumped on board, and our pilot, Frank, gave us a quick safety briefing (including the landing position).
The sun was showing its first rays when Frank started the 4 burners – pretty powerful things – to get us in the air. The balloon slowly started taking off. As we were gaining altitude, we saw a bunch of kangaroos jumping in the bush beneath us. I have to say, when you are in the air and the burners stop, it's a pretty surreal sensation. You're literally floating in the air, following the air currents. And the view… From the mountains hidden in the clouds, to the patterns drawn by banana plantations on the ground, the Atherton Tablelands were simply breathtaking.
We couldn't believe it had been 30 minutes already when Frank told us it was time to land. He coordinated with the other pilots to define the best place to land on. Landing is actually pretty fun but slightly bumpier than with other aircrafts. Once you're on the ground, it's time to pack. The entire group starts to try deflating the balloon. I don't want to spoil the surprise, so let's just say that it's a lot of fun.
If you want to try flying in a hot air balloon, look no further than Hot Air Balloon Cairns. They're very friendly and do everything to ensure everyone has a good time.
The Great Barrier Reef from above… and below
After our morning flight (and a coffee), we headed straight to the airport to meet Eli from Nautilus Aviation. She had a whole afternoon packed for us: start with a helicopter flight above the reef, land on a platform and explore the reef from there! Say whaaaat?!?!
We never flew in a helicopter before 2017. And today is the second time this month! Once in Hawaii over the Napali coast, and now here in Cairns over the Great Barrier Reef. The Great Barrier Reef is the world's largest living organism and is a UNESCO World Heritage Listed site. So you can imagine how excited we were!