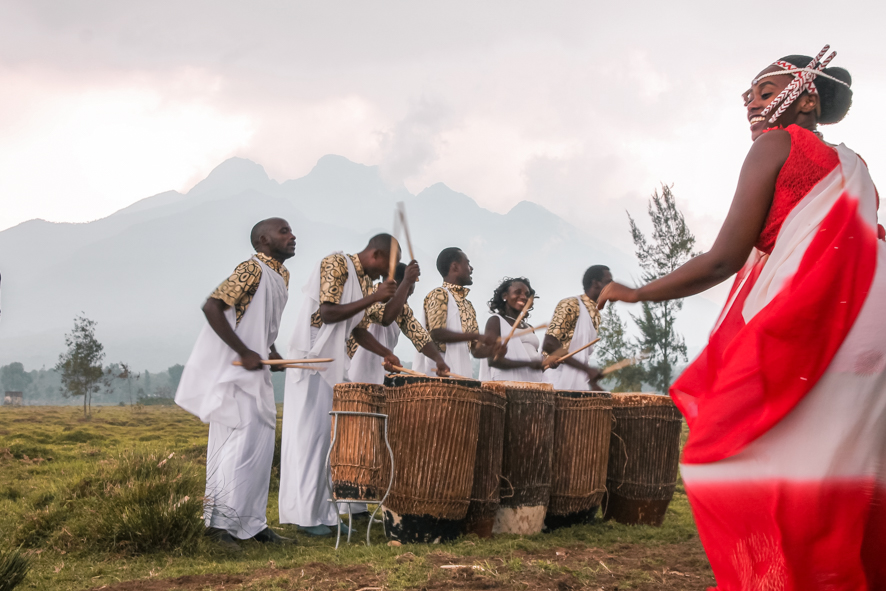 5 reasons to visit Rwanda now
Like most people, the first thing that comes to mind when you hear Rwanda is probably not tourism. We understand, the Rwandan genocide of 1994 left permanent marks in everyone's memory, but today, the country has moved on from its darkest hours and is opening up to the world.
Over the past decades, the government worked hard to rebuild the country and invested efforts and resources in environmental conservation.The country of a thousand hills hides countless natural gems that will take your breath away. You'll find everything nature lovers crave for: amazing diverse landscapes (savannah, volcanoes, lakes and lush forests) as well as incredible wildlife. In addition, Rwandans will welcome you with arms wide open and ensure you enjoy your stay and learn about their country's culture and traditions.
1. Discover a country full of surprises
First, as many travelers, you might be worried about the safety in sub-saharan Africa. But the truth is, you're in good hands in Rwanda. It's actually one of the safest places to visit in Africa. In 2016, the Gallup's Law and Order index for Rwanda was 84 which is as much as Australia's! (the survey is based on 136,000 interviews with adults in 135 countries in 2016 – more information here.)
Next, you'll be amazed by the cleanness of Kigali's streets. The countrywide plastic ban enforced in 2008 and the tradition of Umuganda definitely help keep the city clean.
Umuganda is a traditional practice dating back to the pre-colonial period where everyone had to work 2 days a week for their community leader. The current president, Paul Kagame, formalised Umuganda as a collective event happening on the last Saturday each month. On this day (called umunsi w'umuganda), the traffic stops for a few hours in the morning and all Rwandans aged between 18 and 65 are required to participate in communal projects.
Even though Kigali never made the list of world cleanest cities, it earned the reputation of being the cleanest city in Africa. And the people we spoke to were definitely proud of it!
Kigali is where you'll probably start your trip. It's located in the middle of Rwanda, which makes it a good base to explore the country (you can reach most places in under 3h drive).
While you're there don't miss the Kigali Genocide Museum which will give you insights to better understand the country's history and dynamics.
After visiting the capital, it's time to start your trip into the wild. Be prepared, the beauty of the country will take your breath away.
2. Hike the Volcanoes National Park to meet the mountain gorillas
From Kigali, a 2.5 hour's scenic drive will take you to the gates of the Volcanoes National Park, home of some 300 mountains gorillas.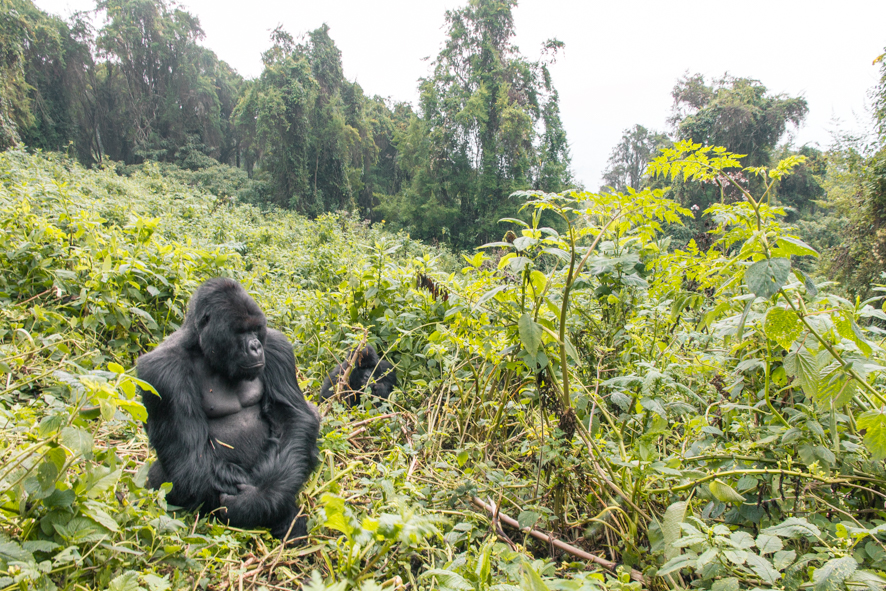 Going gorilla trekking is for many the number one reason to visit Rwanda. This is why since 2000, the government has been working hard to raise awareness and protect mountain gorillas, and it's paying off. Since 2010, the population of mountain gorillas has risen by 26%. Great news for this critically endangered species. If you've ever wondered what it's like to go gorilla trekking in Rwanda, check-out our ultimate guide!
Note: if you can visit Rwanda in September, don't miss Kwita Izina, the yearly gorilla baby naming ceremony. Every year, tens of thousands of Rwandans and overseas visitors gather to raise awareness on the importance of wildlife protection and their habitats.
The tourism industry provides an alternative for ex-poachers, and the access fee to the park is used to support the conservation and build infrastructures for local communities.
After meeting the gorillas, you might want to walk in the footsteps of Dian Fossey and visit the ruins of her former house. This famous primatologist did some amazing work to understand the gentle giants and help raise awareness of the importance of conservation to the world.
3. Discover extraordinary primates
While gorillas are often in the spotlights, several other primates hide in Rwanda's forests.
Organise a morning walk in the forest for your chance to spot the endangered Golden Monkeys. They are endemic to the Virunga National Park, and can only be seen in Rwanda and Uganda. You'll need a permit as well (a lot cheaper than the gorilla permit), and there is no limit on the numbers of visitors.
If you want to encounter more primates, head down to the Nyungwe forest, located 4 hour's drive south-west of Kigali. In addition to its 300 bird species, the park holds 75 species of mammals including 13 primates (Colobus Monkey, Vervet Monkeys, Olive Baboon…). The most famous inhabitants are the chimpanzees. Excursions to go chimpanzee tracking leave early in the morning in groups of 8. Make sure to get your permit first.
4. Go on safari in Akagera National Park
The park, founded in 1934, is located in the northeast part of the country, at the border with Tanzania. It's freshwater lakes, papyrus swamps, and savannah plains create an amazing scenery. It's home to over 500 bird species including the iconic shoebill (although very rare and hard to spot). Thanks to the reintroduction of 7 lions in 2015 and 20 black rhinoceros from South Africa in 2017, the park is now home to the big 5: lion, rhinoceros, buffalo, leopard, and elephant. You'll also be able to spot giraffes, hippos, zebras, topis and many other species…
Note
: it's possible to explore Akagera with your own vehicle. The park also provides options to go on night game drives as well as boat safaris. For more information, head to the
Akagera National Park's website
.
5. Immerse yourself in the Rwandan culture
The Tutsi, Hutu, and Twa tribes that once clashed now look to the future together under one common motto: "No more division. We forgive". Rwandans are warm and welcoming and share a common love for their homeland. They'll proudly introduce you to their culture and customs like Umuganda and Kwita Izina that make this country truly unique.
If you're after authentic interactions, our advice is to visit Rwanda now, while it's still less visited than neighbouring Tanzania and Kenya.
Bonus: if you have more time, head down to Lake Kivu, the largest lake in Rwanda. Unlike other lakes in Africa, there are no crocodiles or hippos around, making it a great place to swim and relax between two adventures.
Using Pinterest?