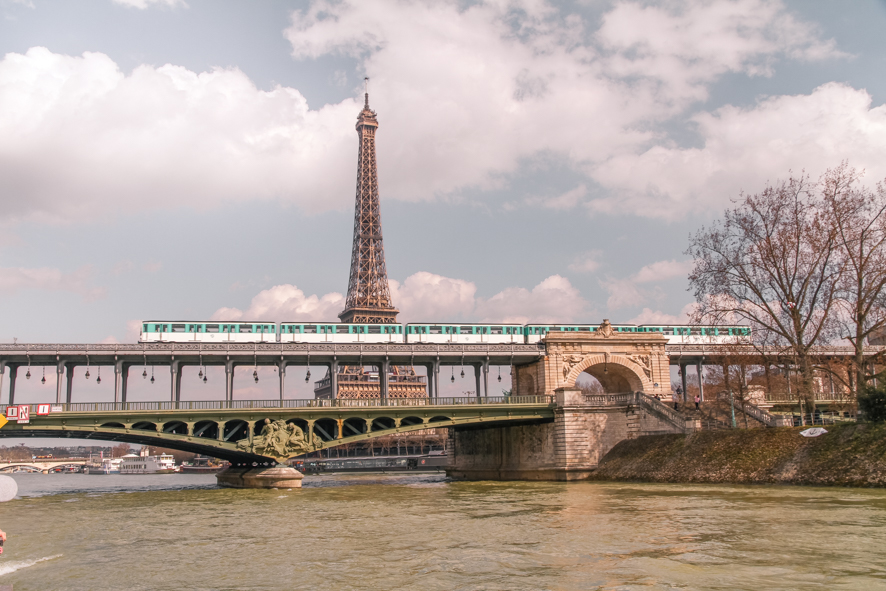 Best way to visit Paris: Paris museum pass + Paris metro pass
You might not know this, but we lived in Paris for about a year when we were studying. So, while we don't know Paris like the back of hour hand, we can easily find our way around and we've visited the main tourist attractions. We still always enjoy coming back as tourists and take the time to wander the streets and soak in the Parisian atmosphere.
Today, we want to tell you about 2 great ways to visit the city and its monuments when you come to Paris for a few days:

the Paris Passlib' and,
the combination of the Paris Museum Pass and the Paris Metro Pass.
Note: If you started your search already, you might have read about the "Paris Pass". To our knowledge, the "Paris Pass" is a private initiative run by a private company ("The Leisure Pass Group") and is not affiliated with the Paris Tourist Office. It seems to offer similar service as the official city pass but is more expensive.
1. Paris Museum Pass + Paris Metro Pass
A. THE PARIS MUSEUM PASS
The Paris Museum Pass gives you access to 50 museums and monuments, including most of the unmissable tourist attractions: the Louvre Museum, the Palace of Versailles, Notre Dame Cathedral, the Arc de Triomphe, the Orsay Museum, the Quai Branly Museum, and many more… Click here for a complete list of the museums included in the pass.
You can choose between 2, 4, or 6 consecutive days based on the duration of your stay in the City of Light. Click here to check the up to date pricing and buy your tickets online.
This pass doesn't include transport so it works really well in combination with the Paris Visite Travel Pass (see example below).
The pyramid of the Louvre in Paris
View from the Musee d'Orsay in Paris
A man sits in front of Notre Dame in Paris
B. PARIS VISITE TRAVEL PASS
This pass (also known as the "Paris Metro Pass") is offered by the RATP, the company running the metro in Paris. It offers unlimited travel in Paris (zones 1 to 3) and the Île-de-France region (all zones, including airport connections, Orlyval, Disneyland Paris and Château de Versailles) across all of the public transport networks (Metro, Bus, RER, Tram…). You can choose zone 1 to 3 OR 1 to 5 which is called the Île-de-France region (and is more expensive).
Your Paris metro pass is valid for 1, 2, 3, 4 or 5 consecutive days, and is activated the first time you validate it… So don't use it for the first time at 8PM or you will lose a day.
All the information you need is available here.
Example:
Let's say that you're in Paris for 1 week (7 days).
Purchase a Paris Visite Travel Pass 5 days zones 1-3.
on your first and last days, pay your airport transfer to your hotel separately
take it easy, walk around in the streets and rest to get over your jetlag and buy your museum pass
Get a 4-day Paris Museum Pass so you're ready to start early the next day (or get a 6-day if you want to pack more things).
If you're in Paris for 5 days, and land in CDG, the 5-day Paris Visite Pass zone 1-5 might be the perfect option for you…
Your other option is to go for a Paris Passlib' which is a great alternative if you're a first time visitor.
2. Paris PassLib'
The Paris Passlib' Pass is a combination of Paris Museum Pass + Paris Visite Pass + A 1-hour sightseeing cruise (on the day of your choice, on the Seine with the Bateaux Parisien) + unlimited access for travel on the L'Open Tour bus for one day. It is available for 1, 2, 3, or 5 days, for adults, young people and children.
After many visits to Paris, we finally did our first cruise on the Seine. To be honest, it's quite fun. During the 1h cruise, you can either choose to stay inside to listen to the commentaries or use the outside deck to have a better view of the monuments around. We chose the latter, even though it was pretty chilli in March 😛
Check out this page for more information about the cruise and latest date prices and here for the timetables
The Open Tour bus offers 4 different lines running in the center of Paris. It can be a good way to see the main attractions without having to plan everything separately.
More information here.
Advantages of the Paris Museum Pass & budget
First, it saves you the headache of having to plan everything before you get there and buy tickets for each museum online.
It is very flexible and you can arrange your days like you want (and based on opening hours – see "tips section" below).
In most cases, you can skip the lines! You don't have to wait in the sun or rain for hours. 2 caveats though:
on very busy days (or rainy days), there is still a "skip the line" queue as there are just too many people. See the "tips section" below for more information.
it's not guaranteed when there are security checks in place or limited regulated access for security reasons
Assuming you save between 20 minutes to 2h per museum, it gives you plenty of time to wander the beautiful streets of Paris…
If you're wondering whether the Paris Museum Pass is worth it, keep in mind that most museums cost around 10 to 15 euros, so simply do the maths based on your plans. It's pretty easy to break even but obviously, the more you visit, the more you save.
3. Our tips to successfully plan and maximise your visit to Paris
For most visitors, museums are an important part of a successful visit to Paris. So there might be a lot of people when you come in, even in the "skip the line" queue. It's a good idea to arrive early for the big museums.
You can realistically visit 2 museums in a day so you can leave some room to walk in the streets of Paris. Packing more in a day might be pushing it.
You'll probably use 2 or 3 metro tickets a day as walking is a great way to explore the city – there is something nice to discover around every corner.
Most museums are free the 1st Sunday of each month.
Museums and monuments are usually closed on Mondays or Tuesdays, 1st January, 1st May and 25th December. Click here to find out the Weekly closing days of cultural sites in Paris.
You can usually expect bigger queues the following day.
Most museums open late once a week. It can be worth making the most of that option for a very big museum like the Louvre.
Your Paris Museum Pass, ParisLib' Pass, and Paris Visite Pass start the first time you use it, so if you start at 6pm, it will count for a full day! Be smart, don't waste your first day 🙂
You can use Google's new Popular Times charts to see when are the quietest times to visit the monuments and museums. Google a museum's name on Google or on google maps and check out the graph showing you called "Popular times".
That's a lot of information to take in at once so feel free to come back as required. We hope you found this article useful and wish you a wonderful time in Paris! Please let us know if you have a question in the comments below. We're always happy to help.